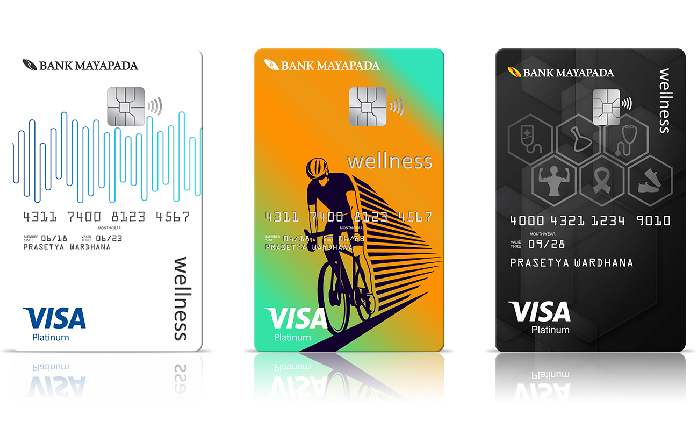 Mayapada Wellness Credit Card present to support your Healthy Lifestyle. Always use the Mayapada Wellness Credit Card for every transaction and create a "Happy Healthy Life".
Features:

myCASHBACK
Enjoy 5% cashback up to IDR 300,000 for every transaction at certain merchant categories using the Mayapada Wellness Credit Card. Cashback will be given if the cardholder has made the minimum transaction. You can enjoy this program for every month and all year long.

myREWARDS
Increase your shopping transactions by using the Mayapada Wellness Credit Card, every minimum retail transaction of IDR 500,- will get 1 (one) credit card point. You can redeem the point for various attractive e-vouchers on the myRewards platform, visit https://myrewards.bankmayapada.id.

myINSTALLMENT
Enjoy fixed installment facilities with 0% interest or low interest at all merchants who collaborate with Mayapada Wellness Credit Card or you can also convert your retail transactions to fixed installments with a period of your choosing, just call myCALL 1-5000-29 (24 hour).
Get 5x POINTS for every retail transaction during the transaction period October - December 2023. You can also enjoy discounts through collaboration programs with the following merchants:
Save up to 60% at Mayapada Hospital
Discount up to 15% at Akasia365mc
Discounts up to 20% at Biomedilab, Optik Melawa & RamenYA!
Free 1x insurance installment payment up to IDR 600 thousand at Sompo
Discount up to 20% at Holiday Inn, Fairfield (f&b), Four Points (f&b) & Intercontinental Hotel Bali
Cashback IDR 50 thousand at Watsons
Buy 1 Get 1 Free at Re.juve
Buy 2 Get 1 Free at Imperial Cakery
Up to 30% discount on Bluebird Taxi
Buy 1 Get 1 Free Ticket at XX1 & CGV
10% discount at KiddyCuts, Sanctum, Levis Outlet & Nike Factory Store.
Discounts up to 60% at Ermedika Clinic
Discount up to IDR 4 million at Perfect Health.
Cashback voucher 50 thousand at My Bestie for the second purchase
For those of you who don't have a Mayapada Wellness Credit Card, you can apply for one by coming to the nearest Bank Mayapada Branch or downloading the Bank Mayapada Credit Card application HERE and send the completed and signed application, along with supporting documents, in a sealed envelope to: Mayapada Card Center, Ambassade Office Tower Ground floor Jl. Denpasar Raya Kav. 5 - 7 Kuningan South Jakarta 12950. Tel. (021) 2902 3070
You can access information regarding the Mayapada Wellness Credit Card or other Bank Mayapada Credit Card products HERE.