There are no translations available.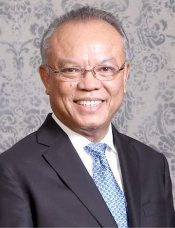 Nelson Tampubolon, SE,MSM
Independent Commissioner
Indonesian citizen, born in 1954 in Balige and domiciled in Jakarta. Nelson Tampubolon completed his Bachelor of Economic education at Parahyangan University, Bandung in1977 and Master of Management at Arthur D Little Management Institute, Bostonin 2004.
Starting his career as a Staff at Private Accounting Firm (1977-1980), International Directorate Directorat Bank Indonesia (1982-2012), Member of the Board of Commissionersat OJK (2012-2017), Member of the Board of Commissioners ex. Officio OJK at Deposit Insurance Agency (2015-2017) and served as President Commissioner at MNC Kapital Indonesia (2018-2019). He has resigned as President Commissioner from MNC Kapital Indonesiain May, 2019. Appointed through Extraordinary General Meeting of Shareholders on 21 August 2019 and will be effective after following the Fit and Proper Test and obtaining approval from the Financial Services Authority.